Getting bored of the same old tennis courts in your neighbourhood? Here's our list of the 10 most Exotic Tennis Courts in the World! Are you ready to be mindblown?
Green Roof Built atop of Burj al Arab
Try envisioning yourself playing Tennis on the top of a 1000 foot building... Sounds pretty sick right? The Burj al Arab is a luxury hotel in Dubai and is the world's third highest hotel. Just imagine the beautiful view and crisp air brushing across your face while hitting some balls on the Green Roof. You can count on losing some tennis balls there! The dazzling helipad of Burj al Arab was once repurposed as a tennis court for a media stunt just before the Dubai Duty Free Men's Open. Do you know between whom the first Tennis Match was played there? It was between Andre Agassi and Roger Federer back in 2011! For safety purposes, the pad was covered with a net while helicopters served as the camera crew during their friendly game.

Image credit: Laughing Squid
Underwater Courts, Dubai
Dubai has always been known for their amazing architecture. Who knew that their skills extended to their Underwater Tennis Courts? Conceptualised by polish Architect Krystztof Kotala, the Underwater court was planned to be situated between the Burj Al Arab and the Palm Jumeirah Islands in UAE. The main court was planned to have seven courts beside it. Rooftop coral reefs were designed over each court to give an illusion of a natural atoll. The designers even had plans to organise a Grand Slam here, which would surely have been a treat to watch for tennis fans worldwide! That being said, the courts remain a fantasy, given that the construction courts were estimated to be close to $2 billion!

Image credit: http://i.imgur.com/hQlXSOL.jpg
Gstaad Palace Tennis Courts
Under the dramatic background of the Swiss Alps, the Gstaad Palace offers you the option of playing at one of its four tennis courts available on its compound. The hotel was established in 1913 and is famous for the "Roy Emerson Tennis Week" which is among some of the leading Tennis Camps in the world! Guests are offered intensive coaching sessions from Roy Emerson while being assisted by his son. Keep the tradition going!


Image credit: http://i.imgur.com/PQFTJ0w.jpg
Bunabhainneadar Tennis Court – Isle of Harris, Hebriden, Schottland, Großbritannien
Feeling like you need some alone time with your tennis partner? Make your way to the Bunabhainneadar Tennis Court, allegedly the most remote tennis court in Britain! With a scenic view of the atlantic ocean overlooking the road to North Harris, the court offers the top artificial grass surface. There should definitely be road signs warning you - Caution : Unexpected Tennis Court Ahead

Image credit: http://www.tennismagazin.de
Grand Hyatt Denver's Sky court
Popularly known as "Skycourt" hotel, Grand Hyatt's roof consists of a Rooftop Jogging Track and a Tennis Court. You can enjoy playing Tennis in the milder and crisper temperature even in the winter months! Playing here would definitely be a treat to oneself. One would also enjoy watching the beautiful view of Rocky Mountain Front Range while hitting some balls. Most importantly, this Rooftop tennis facility has even helped Grand Hyatt to win various excellence awards. Seems like an ideal location for some drills!


Image credit: http://i.imgur.com/KTijRfr.jpg
Il San Pietro di Positano Tennis Court
Situated in Positano, Italy, the court is seriously an Italian Master Class. It is an important part of the Il San Pietro di Positano resort. Also, it is the only hotel in Positano which has a private beach, while having a tennis court built on it. Moreover, the Tennis Court is constructed between the Rock face and the beautiful Mediterranean greenery. Imagine playing tennis while being surrounded by soft sand and crystal clear water. Definitely a feeling to look forward to for a morning game of tennis!

Image credit: http://i.imgur.com/RrfxRgA.jpg
Peter Island Resort and Spa Tennis Court, British Virgin Islands
This Resort is like a gift of nature. Seriously... If you love playing tennis while being surrounded by nature, you have to check out Peter Island Resort and Spa. Who said coconut trees only belonged on the beach floors? Peter Island Resort and Spa are amongst some of the most beautiful Resorts of Virgin Islands. Sounds like a great honeymoon spot for tennis couples!
Image credit: http://i.imgur.com/h4uI69s.jpg
All England Tennis Club, London
Situated in London, the All England Tennis Club's historical significance draws players from all over the globe. It's first court was built in 1924 and was then renovated in 1997. Moreover, the Club currently holds the most important Tennis tournament of the year - Wimbledon Championships. Just the thought of playing here brings my excitement to a new level!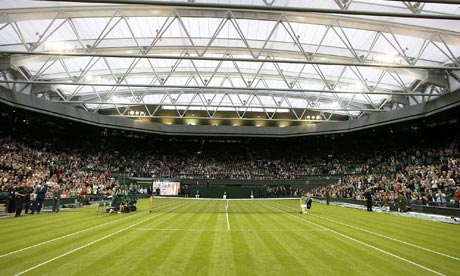 Image credit: http://static.guim.co.uk/sys-images/Sport/Pix/columnists/2009/5/17/1242593407443/A-view-of-Centre-Court-at-001.jpg?w=240
International Tennis Hall of Fame, New Port USA
Situated in New Port, Rhode Island, USA , the club has a historical journey beginning from 1880. It definitely gives off the Vintage vibes. Moreover, the Museum in the club currently holds the title of having the best Hall of Fame amongst all other tennis clubs in the world. A court to check out someday!

Image credit: http://i.imgur.com/f3i0jsi.jpg
All Iowa Lawn Tennis Club, Iowa USA
Situated in Iowa, USA, this club was established in 2003 by the Kuhn family. It was the the dream of Mark Kuhn, the founder, to have his very own club. The court is a Grass Court and is popularly known as the "Court of Dreams" primarily because of the appreciation it has received from the many players who have played here.


Image credit: http://i.imgur.com/0s5q6Ok.jpg
Feeling excited to #playmore at any of these locations and know of any other locations that you think should be on the list? let us know at friends@rovo.co
#playmore @rovoapp
Rovo is an app that connects you with other sports players nearby. It takes the hassle out of coordinating timings and matching others of the same skill level so you can #playmore!
Get the latest versions of the app here